This is the first post in a three part series about the Apple Watch, and why Steve Jobs would have done it differently.
The Apple Watch is something I've been anticipating — Apple is the undisputed opinion leader of the gadget industry and their entry legitimizes this nascent category. So I want to give it proper time and context, even if the first smartwatch I buy will probably be the Moto 360.
And yes, I do believe this is not the watch Steve Jobs would have designed – that's not necessarily a bad thing. I'll begin with something neutral Steve Jobs would have disapproved for his Apple Watch: two buttons.
The digital crown is smart. But the personal messaging button is not.
A basic design principle is to promote what you think is important and to put into the background what's less important. On the iPhone, the home button and therefore the home screen is central to the user experience. That's what comes first. The Settings section, for example, is relatively buried as an icon on the home screen. Apple could have made Settings accessible via a hardware button but they chose not to. Other buttons, like volume, lock, etc. are hidden away on the sides. Spiritually, the iPhone only has one button.
The original iPhone had a 3.5-inch screen while the Apple Watch's screen is roughly 1.65-inches. Despite less room, the Apple Watch has one more primary button than the iPhone. Jobs was famous for his insistence on simplicity: having two main buttons on the Apple Watch is not consistent with that philosophy.
The first button on the Apple Watch – the digital crown – is smart. Touch still works on the watch, but it's not ideal because it leaves fingerprints and because so much of the view is obscured with your finger there. The digital crown provides a control mechanic that avoids both things. Clicking the crown brings you to the home screen of the Apple Watch. Apple clearly considers this an integral part of the watch experience.
The second button is a shortcut to a personal messaging app, where you are presented with your friends' avatars. Tap on one and you can then send emoticons, drawings, pulse-like vibrations and yes, even your heartbeat. It's interesting that Apple gave this feature one of two hardware buttons. You can argue that Apple considers this even more important than time itself. To get to your watch face, you have to press the digital crown and select the watch app. To get to the personal messaging app, just press the button. Promoting this feature as one of two hardware buttons is a major design decision.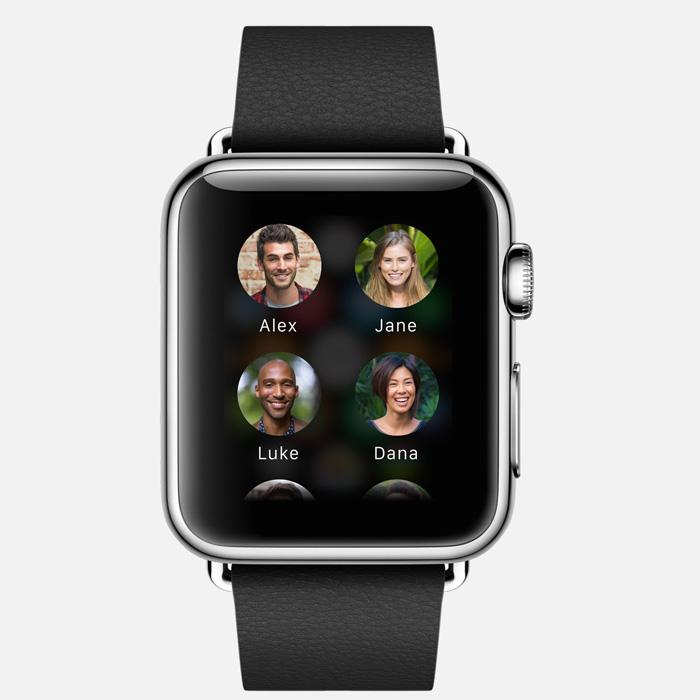 Unlike the digital crown, I don't think the second button is smart. Let's assume I actually want to message friends on this small screen. How many of my friends could I actually message? Less than half of my friends own an iPhone. What percentage of that will buy an Apple Watch? And further, what percentage of those who purchased one will wear an Apple Watch frequently enough that I can be sure my messages will reach them in a timely manner?
Half – few – and very few. One of two main buttons on this tiny device will hardly ever be used.
I used Messaging and FaceTime a lot on the iPhone. And Apple didn't give those apps hardware buttons.
Sure, if the receiver doesn't have the Apple Watch, she might for example get the drawing as an email on her Android phone. But that's not a new type of personal messaging made possible only with the Apple Watch; that's just an awkward email.
The personal messaging app on the Apple Watch might be cute, it might be useful, but it definitely doesn't deserve such prominent placement. Steve Jobs would have insisted on its exclusion as a button.